A Story Over Seventy Years in the Making
Bland Farms takes great pride in being a family owned and operated business. The history of Bland Farms dates back over 70 years when Raymond Bland started a small 50-acre farm by planting peanuts and corn, and tomatoes a few years later.
The entire Bland family was involved with packaging, grading and shipping produce to distant markets and during the late 50s and early 60s, the Bland produce operation grew. Delbert Bland, Raymond's son, was there, watching as the tractor-trailers carried produce to distant places. As Delbert matured, he knew his fascination would play an important role in the future of Bland Farms. It was in a crop that the Blands had not yet grown that Delbert's dream would be realized. That crop was the Vidalia® sweet onion.
Upon graduating from high school, Delbert devoted his full attention to running the farm, and together with Mr. Raymond, decided to enter the Vidalia sweet onion business. At the time, the production and demand for Vidalia sweet onions was growing at a slow pace with most being sold in the southeastern part of the country. After a successful season of growing a small plot of acreage in 1982, Bland Farms was officially in the Vidalia sweet onion business.
Producing a good crop was not enough for Delbert though. His dream went beyond the art of farming. Delbert's dream included seeing his family's products grow from a regional specialty to a national necessity. To sell his onions, Delbert began traveling to all parts of the country, meeting people, handing out onions, and forging strong relationships. His efforts would be instrumental in developing and promoting the now famous Vidalia® sweet onion.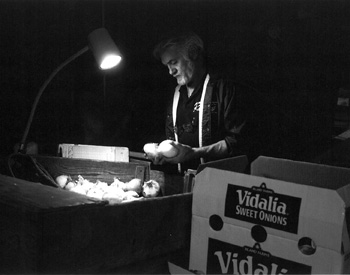 In 1983, Bland Farms began a mail-order business, advertising with a tiny ad in a new publication titled Southern Living magazine, which quickly grew to more than two million subscribers. Business took off and the Vidalia sweet onion gained national notoriety and differentiation with Bland Farms' implementation of PLU stickers to ensure that Vidalia sweet onions were never confused with conventional onions.
In 1990, Bland Farms took an innovative and bold step by building and utilizing the latest in fresh produce preservation technology, controlled-atmosphere storage rooms. These rooms extended the availability of Vidalia sweet onions from two months to four months. Five years later, Bland Farms entered the frozen food market by offering frozen onion rings and chopped onion bits, quickly becoming the nation's third largest distributor of such products.
In 2008, Bland Farms opened a new cross-docking facility in Donna, Texas, Bland Distribution Services, a cold storage and distribution center for fresh, frozen and dry goods. It specializes in consolidating loads, layer-picking shipments, reconditioning-repacking and quality-assurance inspections in addition to other quality services.
The once seasonal operation is now multi-national with operations in Peru and Mexico. Bland Farms' domestic operations span the nation and include Georgia, Texas, Washington, Pennsylvania, and California.