Bland Farms® is the world's largest grower, packer & shipper of sweet onions. We have the team, the experience, the marketing power and the infrastructure in place to meet your year-round rising demand for sweet potatoes. You can count on us.
Available Year-Round
HANDPICKED • PREMIUM FARM GROWN • SUPERIOR SHELF LIFE GROWING CONSUMPTION • PACKED WITH NUTRITIOUS BENEFITS GREAT VERSATILITY
History
In 2014, Bland Farms started growing the Covington variety in the sandy soils of Georgia. They thrived even more-so than in their native state of North Carolina. In response to increased demand, we recently expanded our acreage to 750 and put state-of-the-art curing rooms into place.
Variety & Availability
Strong Marketing Support
From our successful Holiday Bin (shown below) to a year-round media support, we will help you promote our products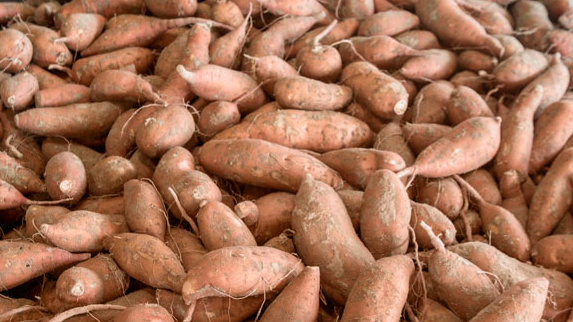 Packing Options & Sizing
We can pack in the consumer bag size of your choice. Popular options include 5#, 6#, 8#, and 10#. Our consumer bags can be packed in traditional 40# boxes or display-ready 40# boxes.
Certifications
Vidalia Brands® procedures and practices for sweet potatoes are HACCP- based Good Agricultural Practices (GAP) certified.
From vision to success
: In 2000, under the umbrella of Bland Farms®, Sandra Bland creates Vidalia Brands®, which rapidly became the leading creator of Vidalia® Sweet Onion Products including salad dressings, sauces, frozen foods and more. In 2014, the company launches its Sweet Potato Program. The future seems unlimited for Vidalia Brands®, an approved Woman-Owned Business from the Women's Business Enterprise National Council and the US Women's Chamber of Commerce.